Balazuc is located in southern Ardèche, 10kms of Aubenas and 18 km from Vallon Pont d'Arc.
Balazuc is part of the Communauté de communes of the Ruomsois country.
This characteristic village is installed on a cliff overlooking the River Ardèche.
Balazuc be visited on foot through beautiful alleys.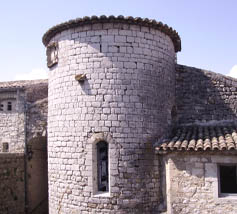 Tourism in Balazuc
This village is part of the most beautiful villages of France, Balazuc is located next to the Ardèche River, making it a tourist village of character. To appreciate Balazucdans whole, you need to cross the bridge that spans the Ardèche to have a magnificent view of the village. Alternatively, you can stroll through the streets of Balazuc to discover magnificent architectural ensembles.
Campsites, cottages rentals, restaurants, rental of Canoes will allow you to spend a pleasant stay in Balazuc.